Vermont Dance Camp: ADTC ULTIMATE Green Mountains, VT
Welcome to ADTC's VT Dance Camp!
At ADTC's VT dance camp, you'll take 4 – 5 dance classes per-day, Mon through Fri. Classes are taught by our professional choreographers. The core dance disciplines you'll take are contemporary, hip hop and jazz (styles vary and may include Bwy or lyrical). Elective dance classes include ballet, tap & world dance.
No matter what your dance level or background, our VT dance camp curriculum is designed to challenge you. You'll be organized into groups by age & ability and get to perform in a big Friday Show.
One Two Step - Ciara Dance - Hip Hop I ADTC DANCE CAMP
Criminal - Robyn Dance - Jazz I ADTC DANCE CAMP
Human - The Killers Dance - Contemporary I ADTC DANCE CAMP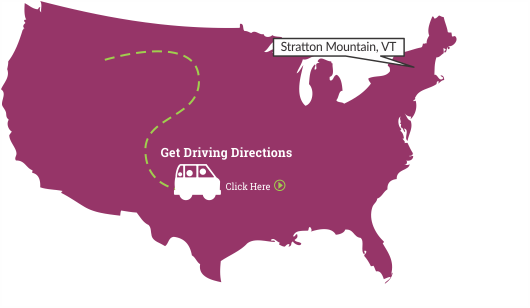 Life @ ADTC in Stratton, VT
Our VT dance camp home is the Stratton Mountain School, a beautiful, fully accredited boarding academy located near Stratton Mountain Resort. Parents, you'll be happy to know that our school is accredited with the New England Association of Schools and Colleges (NEASC) and is also a certified member of the National Association of Independent Schools (NAIS).
At ADTC "ULTIMATE Green Mountains" in Vermont, campers and staff live together in traditional-style dorms. Hallway blocks are organized so that girls of similar ages are grouped together. ADTC staff is housed in rooms on each floor, providing campers with 24-hour supervision and support.
Follow Our VT Dance Camp on Instagram!
Our handle is @danceadtc. Use the hashtag #adtcstratton for a REAL behind-the-scenes look at life at our VT dance camp!

AWESOME ACTIVITIES AT OUR VT DANCE CAMP
At ADTC's ULTIMATE Green Mountains, VT dance camp you can enjoy awesome activities & extras like stand-up paddle boarding, horseback riding, kayaking, paintball, a beach trip, girl's night out in the village, zip lining, and a trip to the Bromley Thrill Zone (alpine slides, water rides, trampolines, mini golf & more!)
Just Some of Our Amazing Stratton, VT Dance Camp Staff
Inspiring VT Dance Camp Testimonials from Our Parent-Camper Surveys
We invite you to read the ADTC VT dance camp testimonials below (submitted by parents through our post-camp survey). Most testimonials below include an email for the alumni parent at the end of their review – please feel free to contact parents for more feedback about their ADTC experience.
Overall rating: 5 out of 5 based on 83 reviews.
Wonderful Experience!
"A wonderful experience overall! My daughter has attended two summers in a row – she dances most of her free time and this is the perfect camp for her. She makes new friends, gets to do what she loves (dance!) and learns new skills, both in dance and in life. The staff is great and so helpful all across the board. Communication is fantastic and we love seeing the daily photos! My daughter got a little homesick one weekend her first summer

Read More

and the staff took great care to make sure she was ok (and to keep me updated). In fact, when she got home she said she was "camp sick" and wanted to go back to camp! ADTC provides excellent dance instruction and skill building, and allows her to broaden her experience in many dance styles. Equally important is the focus on interpersonal skill building and character development in an atmosphere of inclusivity, respect, dignity and fun. There are also non-dance activities to mix things up which she really enjoys. The shows are excellent! It is amazing to see what the girls accomplish in one week. You can tell they are having a great time. My daughter has kept in touch with new friends and can't wait to attend camp again for her third summer next year. Thanks ADTC! krisgoldman@comcast.net"
~ Kristen G., Framingham, MA
Best weeks of the year!
"Best weeks of the year! My oldest daughter has attended the VT location for 4 summers and my youngest daughter has attended for 3 summers. Three adjectives I'd use to describe ADTC are fun, challenging & accepting. amyshoumerdmd@gmail.com"
Really Positive Experience!
"My daughter really had a positive experience with ADTC! She was a first-time camper in Vermont and can't wait to go back next year for two weeks! Any interactions I had prior to the camp to ask questions etc., were handled courteously and professionally. She had a great time! I thought the location and size of the facility was perfect – not too big and not too small. The end of week show was well done for all they did that week. Very impressed with all the routines!"
~ Anita L., Jamesville, NY
More Independent & Confident!
"My daughter felt uncomfortable and wanted to come home the next day of camp. Staff contacted me immediately via e-mail letting me know of the situation and we scheduled a phone conversation with staff the next day. Reassuring us that our daughter was fine and the staff spending the extra time to listen to her concerns and fear, she ended up staying for the remaining time and now she's more independent, more confident of herself and it crossed her mind to participate the next year as well."
~ Kinga G., New Rochelle, NY
Love the Counselors!
"This is the second year my daughter has gone to ADTC in Vermont for two weeks. She loves the counselors, facility, quality of dance instruction and the friends that she makes."
Fantastic Memories!
"ADTC Vermont was a great experience for our daughter. We combined English immersion together with dance and more dance everyday! Was easy to access from Montreal, great environment. Fun and sweat was on the daily menu and our daughter came back with fantastic memories, more confident talking English and ready for the next experience! She spent a week with new friends doing what she loves which is dancing 🙂 The VT Director and her team were the best! I was

Read More

in great hands, felt comfortable even many miles away. When I had to communicate to get some info's I got an answer very quickly from the Director and got a fantastic update about how my daughter was doing. My husband and I were impress with the show, the quality of the dance, the execution of the show, animation … everything was upscale 🙂 karinetousignant74@hotmail.com"
~ Karine T., Carignan, QC Canada
Great Time!!
"If my daughter could design a camp for herself I think it would look like this! ADTC was fun, challenging and welcoming. She had a great time!! Kobcholew@gmail.com"
~ Karen O., New Windsor, NY
We Love ADTC!
"My daughter has attended the Vermont location for 3 summers and this was the first time I was able to see the show in person. I was blown away! What they were able to accomplish in a week was amazing! To see my girl do Irish dance again was awesome. We love ADTC! It's a great camp!"
~ Caryn M., Rhinebeck, NY
Experiences she will treasure!
"This will be my daughter's third summer at the Vermont location. ADTC has given her experiences she will treasure. There are wonderful caring counselors to support her growth, incredible teachers that really focus on each child, and lifelong friendships. Stephajose@aol.com"
~ Stephanie J., Huntington Station, NY
Long Lasting Friendships!
"My daughter had such a great time at ADTC and felt welcomed from the moment she stepped foot on campus. ADTC was so great in helping my daughter find her confidence in herself, dancing and making long lasting friendships."
~ Jaqulyn R., Highland Falls, NY
Favorite Camp!
"My daughter had a great time at ADTC. She came home from camp ecstatic with a whole new confidence level. It was her favorite camp she has done so far!"
The Best, Very Professional!
"Very pleased with the overall experience, management quickly and thoroughly answered our questions and took care of our concerns. My daughter was nervous since she didn't know what to expect and the counselors were all great. The best, very professional. thank you all very much for a great week for my daughter!"
~ William W., Chatham, NY
She Loved It All!
"Overall it was a really great experience, staff members were kind and welcoming along with the campers. Everyone there made my daughter feel really at home and motivated. She loved it all. yelenashpln@hotmail.com"
~ Yelena M., Westport, CT
Fun, Exciting & Educational
"Just an overall great experience. Fun, exciting and educational."
~ Brooke B., Newburgh, NY
Really great time!
"This was my daughter's first time at an overnight camp and she had a really great time. Three adjectives I'd use to describe ADTC are fun, instructive, and comfortable. erinkeaney@gmail.com"
~ Erin N., Marblehead, MA
So pleased with ADTC!
"We were so pleased with ADTC. The instruction was excellent, the performances were incredible, and lots of friendships were formed. Non-dance activities were fun and there was plenty to choose from. The Stratton Mountain School was a beautiful location – we thought the accommodations were great and I was told that the food was very good. I never had any trouble getting in touch with the staff and everyone was very friendly. Our daughter will definitely return next summer!"
Excellent Time!
"My daughter had an excellent time in all aspects of camp in Vermont this summer. Three adjectives I'd use to describe ADTC are welcoming, fun and challenging. kristine.shah@gmail.com"
~ Kristine S., Bedford, MA
Exceptional 5th year!
"Dancers, CITs, JICs, Counselors, classes, choreography, culture/spirit of camp were all amazing & surpassed our already high expectations. It's nice to come back year after year. I love Ashley and Alli as leaders. I think they are amazing role models for the girls. Exceptional year! marundale@gmail.com"
~ Michelle A., Sharon, MA
Big Fan of ADTC!
"I'm a big fan of ADTC. This will be my daughter's third year in Vermont and second year attending for three total weeks. ADTC is great for girls who love to dance. My favorite part is the constructive and positive environment. My daughter also loves the food and the kitchen staff. ADTC is positive, healthy & fun. brentwgodfrey@gmail.com"
Part of Our Summer Plan!
"This camp has become a part of our summer plan – four years & counting! The experience has been great and from 1 suggestion you now have over 6 families with multiple kids coming to the camp. Thank you for making our daughter feel like she has a second home – she can't wait to return as a CIT! wswinter@yahoo.com"
6th Year at ADTC VT!
"This was my daughters 5th year at ADTC in Stratton, VT and the best in many ways. We appreciate a program that grows and develops stronger as our girls grow too. We've registered her for all three weeks next summer – year 6!! melkahn@gmail.com"
~ Melany K. West Chester, NH
Very Well Run
"ADTC was very well run, professional and accommodating. Everyone we encountered was more than willing to help answer questions and super friendly. My daughter can't wait to return to the Vermont location for three weeks next summer! Three adjectives I'd use to describe ADTC are fun, well-organized and welcoming.tmfranzese@hotmail.com"
~ Tracey F., North White Plains, NY
Fun & Empowering for My Daughters!
"What a wonderful experience for my daughters. Both fun and empowering – let them be independent while at the same time building some great friendships. Both of my girls had a great time. Dance was wonderful but even more important they made really good friends and had a blast. They are already missing their friends and looking forward to returning next year. annebloss@hotmail.com"
If It Were Up to Her, She'd Never Leave!
"My daughter has attended the Stratton, VT location for three summers. She loves camp, and if it were up to her she'd never leave. Three adjectives I'd use to describe ADTC are fun, learning & friendships. aguardino85@gmail.com"
~ Audrey G., Newburgh, NY
Perfect Blend – Dance & Fun!
"ADTC is the perfect blend of improving dance skills and having fun with friends. I liked how it was a mix of dance and other activities. My daughter can't wait to attend the Vermont location for three weeks again next summer! I'd describe ADTC as fun, memory making, and diverse in activities. jelombardo@me.com"
~ Julie L., Pleasantville, NY
Not 1 Complaint.
"My experience as a parent was amazing. Communication was amazing. My daughter absolutely LOVED her first sleep away camp and cannot wait to return. She didn't have 1 complaint. I was very happy with all of the staff. I talked to a few of them and I watched interactions with my daughter after the show and it confirmed all of my feelings about the camp. I knew that my daughter was in good hands!!! Three adjectives I'd use to describe ADTC are fun, variety & comfortable. We've already registered for next year! raquelrt.rrt@gmail.com"
~ Raquel T., Millstone Twp, NJ
Great Experience.
"Great experience. My daughter attended two weeks in Stratton, VT and is signed up for two weeks again next summer. Adjectives I'd use to describe ADTC are fun & structured. mfarmstrong@hotmail.com"
Coming back for 3 Weeks!
"My daughter loves this camp! She's coming back for all three Vermont weeks this summer. kellyloparrino@yahoo.com"
~ Kelly L., Pleasantville, NY
No Problem Making Friends
"This was my daughter's second year at ADTC. Both years she went alone and had absolutely no problem making friends that she still keeps near to her. The staff is energetic, engaged and inclusive with all the kids. It is something that my daughter looks forward to every year – they do an excellent job! The communication is great. The entire experience is great. For me from an administrative end as well as my daughter's experience. Three adjectives I'd use to describe ADTC are inclusive, fun and well-run. carey@scinto.com"
First Sleep Away Camp
"Wow! What an amazing experience our daughter had. It was her first sleep away camp so we were a bit nervous…she couldn't stop talking about the week the entire 3 hours we drove home on Saturday. She's already planning on attending next year and wants to stay for 2 weeks. She met some fabulous girls and quickly made friendships that surely will last for years. She loved the food, and absolutely loved all of her instructors who pushed her hard (but in a good way). Everyone was very down

Read More

to earth and very professional. She really enjoyed her contemporary class, and had a blast during her free time participating in almost all of the off campus activities (horse back riding was her favorite). She also loved taking an acting class with the special guest…Lane Napper! We loved the performance on Friday night – we definitely will be signing her up for next year. jennifer_a_dean@comcast.net"
~ Jennifer D., Stratham, NH
Uplifting & Inclusive
"This camp is wonderful! Very uplifting and inclusive. My daughter finds ADTC challenging & fun – it combines wonderful dance training as well as fun summer activities, which I think is important. Wonderful communication – we were asking questions prior to camp and always received helpful and timely responses. Some interpersonal issues happened with another camper that I feel were dealt with very well. The staff was wonderful! Caring, energetic and fun. And my daughter made some good friends, too – she can't wait for next year! rtanner8@aol.com"
ALL Fantastic!
"Communication, facilities, experience were ALL fantastic! She loved ALL her teachers and couldn't pick a favorite! Three adjectives I'd use to describe ADTC are professional, motivating & empowering! eharper@otisatwell.com"
Everything was fantastic!
"ADTC was the best place for my daughters first sleep away camp experience (for both of us). Everything was fantastic! The registration was easy. The pre-camp information was sent a little at a time so easier to digest – it put me at ease and excited my daughter. Although slightly nervous upon arrival, she was quickly welcomed and was off and running – the positive energy and excitement was contagious. My daughter has several food allergies and the staff was super accommodating

Read More

and made sure we were comfortable before I left. The staff were super sweet and helpful and put me at ease knowing my daughter was in good hands. I was very impressed with the Friday show and was filled with joy to see my daughter having so much fun with new friends. She is already talking about going back next summer for 2 weeks! tcvigliotti@gmail.com"
Absolutely Loved Every Minute!
"My daughter absolutely loved every minute of her first time at ADTC Stratton. She really enjoyed all the dance classes, and felt there was a good balance of electives and other activities. She made some good friends in the short week she was there and had only positive things to say about the counselors. And I thought the end of week show was very impressive for the short amount of time. When we picked her up, she said she is definitely going again next summer! waltandjess2004@yahoo.com"
~ Jessica H., Needham, MA
Boosted Confidence
"My daughter loves ADTC. She just finished her third year and is still talking about it. She always comes home with boosted confidence and great self esteem. Three adjectives I'd use to describe ADTC are independent, positive & challenging. mariaconnorgolding@gmail.com"
Absolutely Enjoyed It.
"It was my daughters first time at a sleep away camp and she absolutely enjoyed it. She met new friends and gained a lot of experience from her instructors. Three adjectives I'd use to describe ADTC are fun, inspiring & education. jmhutton08@gmail.com"
I'd Give the Friday Show an 11!
"We had a great experience. If i could give the Friday night show an 11 i would! Three adjectives I'd use to describe ADTC are focused, fun and supportive. brooke@cfwelectric.com"
~ Brooke P., Danville, VT
Mom, I Want to Do It Again Next Year!
"Our daughter (10) attended ADTC as her first "sleep away camp", which, of course, can be scary. While she was slightly homesick, I think the friendliness of the staff and the focus of the dance routines alleviated the homesickness. And she gave the best (and simplest) testimonial: 'Mom, I want to do it again next year' mtc@kingchaves.com"
~ Misty C., Palm Beach, FL
More Than Just Dancing!
"This was my daughter's first year at ADTC and she absolutely loved it! It was well structured and kept her busy with more than just dancing. She loved that she had lots of choices of different things to do and made lots of new friends! She even loved the food and all the good healthy choices! The dinner rolls are excellent!! sennshens@gmail.com"
An Adventure!
"ADTC is fun, exciting, and an adventure! My camper enjoyed her time and she hopes to come back next year! aenovak@bellsouth.net"
Show Was Wonderful
"This was my daughter's 1st time attending and she loved it. We've signed her up for two sessions next summer. The show was wonderful. We truly enjoyed everything. Adjectives I'd use to describe ADTC are fun, friendly, caring & confidence-building. lynlaverty@gmail.com"
~ Lynette L., Deerfield, NY
I Was So Happy!
"It was a truly amazing experience for my daughter. It was her first time at a sleep away camp – she is 12. She loves to dance so we decided to give this camp a try. She went with two friends. She absolutely loved everything about camp! Danced every day, made a ton of new friends. She wants to go for two weeks next year! There was so much information given to the parents before and so many pictures on FB, I was so happy! cdmilliot@aol.com"
~ Caryn M., Rhinebeck, NY
Loved Everything.
"My daughter had a wonderful time and loved everyone and everything about dance camp in Stratton, VT. She can't wait to go back next year! nhfords@yahoo.com"
~ Kristin F., Portsmouth, NH
Appreciate the caring staff!
"This was my daughter's 4th summer in Stratton, VT. All the staff were so nice and amazing to work with! Everything was well-organized and planned out. Three adjectives I'd use to describe ADTC are friendly, challenging (in a good way), and exciting. kate@graycliff.net"
~ Katherine J., Newton, MA
Enjoyed Doing New Activities She Can't Do At Home
"My daughter had a wonderful experience. She enjoyed learning new dances, dance styles and doing new activities she cannot do at home. The dance teachers were all friendly and warm. The elective classes were wonderful. kimmydarcy@gmail.com"
~ Kimberly D., Oak Bluffs, MA
Great Experience – 2 Summers
"My daughter has had a great experience at ADTC the past two summers. I'd describe ADTC as fun, beautiful location, and full of activities. pritingandhi@hotmail.com"
~ Priti G., Lexington, MA
Very Cool Camp
"Great program, excellent communication, dance focused with some other fun on the side – a very cool camp that my daughter very much enjoyed. wrex@encinacapital.com"
Left Happy & Inspired!
"My daughter had a awesome time at camp. She left happy and inspired. The staff were all fantastic. Awesome performance! sferrucci@ffmechanical.com"
Great Experience
"My daughter had a great experience as a first-time camper and CIT. I was very impressed with pre-camp and during camp communication – always prompt and helpful. kjokepler@gmail.com"
Loved the Experience!
"My daughter loved the experience! I'd describe ADTC as Fun, challenging and friendly. ldybg80@netzero.com"
~ Kimberly D., Gansevoort, NY
Can't Wait for Next Year!
"Everything was great, my daughter loved her first time at ADTC. While my daughter went with a friend, I was happy to find out that she made new friends at camp. It is always a parental concern that a child's experience with other campers can make or break their time at camp. Overall, she had a very positive experience in every aspect of ADTC and she can't wait for next year. giovanna.seldin@gmail.com"
~ Giovanna S., Rhinebeck, NY
Already Packing for Next Year!
"My daughter recently returned from her first 'stay away' camp at ADTC's Stratton Vermont location. She attended with 3 friends, and they all had a blast! She has danced for 10 years and she enjoyed the fact she was able to learn new moves, befriend others, and have a lot of fun. She enjoyed all the dancing of course, but also the additional activities. The counselors and teachers were great, and she also appreciated that they were so thoughtful and accommodating of her food allergies. The

Read More

communications by management were great prior to, and during the week. The day after her return home she posted… 'already packing for next year!'. Can't find a stronger recommendation than that. Maryane.chapman@gmail.com"
She is in great hands.
"ADTC is a wonderful dance camp experience! My daughter will be returning for her 4th summer in 2018! She spends 2 wonderful weeks making new friends, experiencing new activities, growing, laughing, making memories but above all dancing. The staff is caring and attentive. Communication is wonderful. I know when I leave her that she is in great hands. slahorwitz@yahoo.com"
~ Stephanie H., Fairfield, CT
FANTASTIC!
"Lindsey, Dani, and Ashley went above and beyond to make my Little Sister's ADTC experience FANTASTIC! It's wonderful to see her come back glowing – she didn't want to leave! I hope we can send her again next year. Thank you to ADTC for the generous scholarship, inspiring counselors, and wonderfully inclusive experience! #bigsisterboston alisonrogers@gmail.com"
Friends from all around world!
"I was extremely impressed with the Friday night show, and what my daughter had learned in one week!! She made friends from all around the world that she has kept in contact with since home. She is looking forward to attending again next year!! jodyinzitari@yahoo.com"
Dance camps of this caliber are rare.
"Dance camps are aplenty…dance camps of this caliber are rare. We feel lucky to have found them. It is the people, the kids who attend, the philosophy driving the program, the dance program itself, and the parental support by the camp pre/during/post camp that defines the type of experience you and your child will have. They are the brightest option I have found, they have separated themselves from the crowd in many obvious ways. My child absolutely loved it, made friends

Read More

from as far away as the Cayman Islands and as local as a few miles away from our home. Her confidence in dance grew tremendously…we thank them for that. Most importantly, we had a divorced parents situation that surfaced during camp and they handled it with amazing aplomb and compassion…preventing any impact on either my child or the other campers….these are not things you can foresee in a brochure. When they are handled without and friction, you know you have a quality management team. Thanks for the experience! jrmaxiv@gmail.com"
Absolutely recommend
"I would absolutely recommend this camp! It is a welcoming and fun place for girls. My daughter felt welcomed by all of the teachers and campers from the moment we arrived. The dance program was superb. I cannot believe how much my daughter learned in one week. mrsb71@optonline.net"
So much more than just a dance camp!
"This was our daughter's first year attending ADTC in Stratton VT, and her first extended stay away from home. She had a wonderful time and experienced many new things. To anyone thinking of attending, this is so much more than just a dance camp! The outdoor activities are a great addition as well as the focus of unity amongst the campers is a powerful message. The new techniques learned are so inspiring! It is worth every penny and every moment of missing your child, the returns are wonderful! tjohnstone515@yahoo.com"
~ Kurtiss J., Rensselaer, NY
Bond with girls from all over!
"ADTC is an awesome and diverse dance camp! There are a variety of fun dance classes where you get to learn choreography to be performed in the final show, but you also get to do a lot of fun summer activities like kayaking, horseback riding and a ropes course! It is a great balance of dance and traditional camp activities! I love the special elective classes like African and yoga. It is a chance to bond with girls from all over and build friendships that will last a lifetime! I highly recommend this camp!"
~ Ashley C., Brooklyn, NY
Every day was new adventure!
"The staff at ADTC Vermont were so amazing and supportive. My daughter was a first year camper and she felt so welcomed by the staff and the other girls. My daughter loved learning choreography from the ADTC teachers- everyday was a new adventure. There was such a team atmoshere- all the girls encouraged one another. I highly recommend ADTC – especially to new campers!!! aielynnhawke@yahoo.com"
~ April M., Claremont, NH
So many new friends!
"My daughter attended this camp last summer in Stratton, Vermont. She came home very confident and full of life. She made so many new friends that she still keeps in touch with and felt it was a really supportive environment where even the most seasoned dancers supported the less experienced and younger girls. She really enjoyed every aspect of the camp and was so proud of the show they put on at the end. I think the week made her more independent and gave her a great sense of self.

Read More

She said she worked hard but felt she learned a lot and more importantly was surrounded by very supportive campers and staff. laurie.findeisen@gmail.com"
~ Laurie F., Stamford, CT
"I Miss Camp"
"My daughter traveled to VT from CA. We were headed to Maine to see grandparents. This was her first camp away from home or a school camp and one where she did not know a single person. She was told, "You are going to a summer camp (resident). It can be about dance, archery, campfires, etc." She found ADTC online and saw that VT was an easy 4 hr. drive from the In-Laws place. Other than what was online, we had no previous experience with ADTC. As an elementary educator, I was a little

Read More

nervous. She attended the third week of the season. After a brief check in, we found her room. Within a minute, her roommate (on her third week of camp), entered and introduced herself. She was very friendly. Another min. and 5 more girls came running. They were asking my daughter questions and saying, "Hello." I was impressed. My goal was for her to just have fun and gain confidence in herself and socialize. It was not about dance for me. The week was a BIG success. My child is one of those, "I'm here to dance," and is a rule follower. She got along with others and plans to attend 1-2 weeks next summer. Within minutes of driving away, she stated, "I miss camp." That's about the best thing to hear as a parent. calisuse@hotmail.com"
Highly Recommend
"Both of my kids ages 8 and 14 attended last summer to the Vermont program. I found the facilities to be a perfect setting for a camp. The girls made friends very easily because of their introductory type activities and want to go back next year for even longer! Their campers' portal made it very easy to keep up with pictures and what activities they were doing as well as be able to send notes and care packages to them. I would highly recommend."
~ Jessica H., Westwood, MA
Empowering Experience!
"ADTC was a wonderfully diverse and empowering camp experience for my daughter! I like the mix of dance classes and afternoon outdoor activities. There is also a strong focus an girl empowering themes with we loved for our daughter. Highly recommend this camp!"
~ Corinne M., Chappaqua, NY
EIGHT years!
"My daughter has been attending American Dance Training camps in Vermont for EIGHT years. I can't believe it's been so long! She refers to ADTC as her "second home" she loves it that much and that is directly a result of the teachers and counsellors. The facility is fine, but certainly not luxurious. But the teachers and staff make the kids feel like they really belong there, regardless of their level. I'm always amazed at how much progress my daughter makes in a couple of weeks

Read More

considering that this is not a competitive program and she dances competitively the rest of the year. I have to disagree with one of the other reviewers that they sort by age and not ability in the dance classes. That's totally wrong. You will see teenagers in the beginner class and little ones in the advanced class and guess what? No one cares. They are all friends and super supportive of each other. One year they did put my daughter in a lower class than she expected. I was worried that she was upset, but she was actually fine with it. And they moved her up the next week. No big deal. Frankly, it's such a breath of fresh air after the grueling competitiveness of the competition year. Again, that's a tribute to the teachers giving each kid the attention and instruction they need. This last year my daughter was actually a CIT and it was a great experience for her. I think some day she'll be a teacher there. hdgoss@verizon.net"
~ Heather G., Needham, MA
Definitely going back.
"My daughter enjoyed every minute of her dance camp. All the instructors were so amazing and she is definitely going back next year. She made such wonderful friends and learned about friendship and team work and most importantly being good to one another. In a world of such turmoil this experience is what she needed to see the good in girls. I can't thank you enough for all of the support and love and guidance she received at ADTC dance camp in Vermont. sbrowne@lions.molloy.edu"
~ Sarah B., Belle Harbor, NY
Great experience
"Great experience. The emails ahead of time helped greatly in preparing. Parisimb@aol.com"
~ Mary Beth P., Middletown, NY
Refreshing.
"My daughter's week at ADTC was a great experience. She thoroughly enjoyed all of the dance instruction and activity she participated in. Was so refreshing for her to experience dance with others that she doesn't dance with all year round – same for the instructors. Great to have fresh pointers and views on her style and technique. 4englanders@optonline.net"
~ Wendy E., West Milford, NJ
I would highly recommend.
"Both of my kids ages 8 and 14 attended last summer to the Vermont program. I found the facilities to be a perfect setting for a camp. The girls made friends very easily because of their introductory type activities and want to go back next year for even longer! Their campers' portal made it very easy to keep up with pictures and what activities they were doing as well as be able to send notes and care packages to them. I would highly recommend. hennesseyfamily@me.com"
~ Jessica H., Westwood, MA
Highly recommend!
"My daughter attended the Stratton VT Camp this summer and I could instantly tell a difference in my her confidence level during the Friday Night Showcase in front of the parents…her shoulders were back, her posture was upright, and she had a huge grin on her face after each dance. I'm happy to say this new found confidence has continued over the months and she has become a bit of a social butterfly. We couldn't be happier with our decision to send her to American Dance Training Camp and we have already signed her up for next year! Highly Recommend!"
~ Phil C., Charleston, SC
5 years – she loves it.
"This summer was our 5th at ADTC. Every year, without fail, my daughter says she wants to go back the following summer for a longer stay. Later in the summer my daughter was in 2 theater performances. One was a musical and she was asked to assist as choreographer. She said without her ADTC experience she probably would not have been ready to do that. She loves it. jrobertson@wwsu.org"
~ Jami R., Montpelier, VT
Great week.
"I knew very little about ADTC and picked the camp off the internet with no references just internet reviews. We were so delighted with our daughter's experience. She learned a tremendous amount of dance and she has 10 years experience dancing. She made incredible friends. She had a fantastic week and can't wait to go back. We loved the show at the end of the week. The girls learned 4 pieces and performed them. They were well choreographed and the girls had mastered them. It was a great week. ptcalayag@aol.com"
~ Patricia C., Stamford, CT
Loved pics on instagram!
"I was apprehensive having my daughter go to an overnight camp so far from home for her first overnight experience, but she had a great time, made new friends and adjusted well. She loved the classes and all of the instructors. The Friday night show was a great way to see how much she learned over the week! Seeing the daily pictures on Instagram helped me to see she was having fun. She will definitely be back next year (she's already talking about 2 weeks)! plentine64@gmail.com"
Absolutely loved it.
"My daughter loved ADTC! She was honored to be chosen for a solo in the Friday night performance. This camp allowed her the opportunity to make new friends, and to also dance with other children who are just as passionate about dance as she is. She absolutely loved the experience, and can't wait to be back next year! bfoss@optonline.net"
Great time each year!
"This was my daughter's third year at ADTC Vermont and she has had a great time each year. Highly recommend! betsy_depaolo@yahoo.com"
~ Elizabeth D., Cheshire, CT
10 years at ADTC!
"From a camper starting in 2007 to Counselor-In-Training, Junior Instructor-Counselor, and now Instructor-Counselor, ADTC has helped shape my daughter into a confident, kind and caring young lady! And, so strong, I should add! Thanks Lindsey and Shannon for your great leadership and offering this exceptional camp experience. You guys rock! Don't forget to encourage folks to suggest ADTC to non-dancer friends. For five years, Alli attended with a friend who had switched to sports at home, but LOVED dancing for the fun of it – and FUN they have had! Love your Manifesto, too. What mother wouldn't?"
Perfect place for dancers!
"This was my daughter's first year at ADTC. She spent 2 weeks in Stratton, Vermont and we couldn't have been happier with the whole program. From the informative pre-camp emails to the friendly and awesome counselors to the impressive Friday night show…it is a perfect place for young girls that LOVE to dance!"
Top notch!
"My daughter attended the camp in Vermont the summer of 2014. She was 11 and it was her first sleep away camp so we opted for 1 week. She begged us to stay for the remaining weeks! She truly enjoyed the other girls, the instructors, and the facility. She feels her dance skills have definitely improved. Everything was top notch from the food, the activities, and the professional instructors. Shannon is on top of everything! She is very responsive to any questions you have or any issues

Read More

that might arise that she needs to make you aware of with your child. We have signed our daughter up for 4 weeks in 2015! Excellent job ADTC, keep up the great work!"
~ Andi R., Ridgefield, CT
Looks forward to it every summer!
"My daughter has loved her years at ADTC, she looks forward to it every summer. As a parent I know she is being well taken care of, the facilities are great, and she is doing what she loves to do most – dance. She has gained amazing friendships and grows each summer to be a better and better dancer. The staff ADTC are patient and caring and Shannon Fouts is AWESOME, super responsive and ready to help with all my emails questions!"
15 yo loved this camp!
"My 15 year old daughter loved this camp! I thought it was well run and the counselors were available, friendly and funny but not overbearing. They let the girls enjoy each other's company. She can't wait to go back."
Daughter loves this camp.
"My daughter loves the camp. This was her 2nd year and she's begging to be able to attend more than one session. The Friday Night Show was fun to watch and it is clear the girls all had a great time by their expressions. I was very impressed in the quality of the numbers after such a short period of time to learn and rehearse. The instructors looked like they had as much fun as the girls Friday Night! adtc@dascensio.com"
Nothing but great things to say
"I have nothing but GREAT things to say about ADTC (American Dance Training Camps)! This past summer was my daughter's second year at ADTC and again she came home wanting more, more, more! It is like her home away from home. She just adores the camp and the staff and we are so happy that she found her summertime dance home! One issue the first week was dealt with in a very professional manner – and of course no matter where you go there will be some issue – these are kids after all!

Read More

Shannon the office manager is so hands on (she is based in CA) and has been wonderful in helping us plan our summers. She is so incredibly responsive as were the camp directors. My daughter is already signed up for this coming summer (2014!) debfercon8@gmail.com"
~ Debbie C., Wellesley Hills, MA
Good as it gets.
"Good as it gets. My daughter has been a camper at the Vermont location for 6 years! She loved it from day one. The dance instruction is up to par with her dance comp. studio. She made many friends that have kept in touch during the "off season"as well as those who have graduated HS and gone off to college and become staff. Each girl is very special and treated with the utmost respect & dignity. There are campers that love the dance, and other that just love camp and the friendships."
REGISTER NOW
Join Us at the Picturesque Stratton Mountain School in Vermont!
Make new friends, learn cool moves & have a BLAST with our top-notch dance staff this summer!
REGISTER NOW