2018 Parent Info, Forms & Waivers
Thank you for choosing American Dance Training Camps! Whether you're a first-time family or a seasoned dance camp veteran, we are excited to welcome you to what will be an amazing summer.
We are dedicated to providing the highest quality program for your family. At ADTC we offer a true summer camp experience with an even balance between dance and awesome recreational activities. Our goal is to make this page your best resource for everything you need to prepare for camp.
As camp approaches we will periodically send out email updates, so be sure to keep an eye out. Plus, we send out lots of updates via Facebook, so please click here to follow us. We can't wait to welcome your family to camp! If you have any questions, please feel free to call or email anytime.
See you soon!
~ The Staff at ADTC
Here is a list of things you need to do before camp:
Pay Your Tuition Balance! Email Lindsey (l.fadner@danceadtc.com) if you haven't received your online invoice.
By June 1: Complete your 2018 Registered Camper Form.
By Friday Before Check-In: Purchase a Good Luck Ad in our show program, if desired.
Get Packing: Check out the ADTC Packing List.
And don't forget to follow us on Facebook for daily camp photos! Each and every day of camp our photographers are hard at work taking hundreds of pictures...at the end of the day we post these photos to our Facebook page.
For camp care packages, we recommend you check out Sealed With A Kiss.
It's easy to send an email to your daughter while she's at camp! Simply use the address below for your ADTC location w/ the subject: "BUNK NOTE FOR (DAUGHTER'S NAME) - PLEASE PRINT/DISTRIBUTE" - please do not send an email before her camp session begins.
Lake Forest, IL: ILPD@DanceADTC.com
Squaw Valley, CA: CAPD@DanceADTC.com
Stratton Mountain, VT: VTPD@DanceADTC.com
Sparks Glencoe, MD: MDPD@DanceADTC.com
Black Mountain, NC: NCPD@DanceADTC.com
Winter Park, CO: COPD@DanceADTC.com
Austin, TX: TXPD@DanceADTC.com
Beaver Dam, WI: WIPD@DanceADTC.com
* Note: Parents will be required to sign waivers for activities that require them at check-in. If your child will be traveling alone to camp or getting a ride with a friend (or if you just want to be extra prepared before check-in), you can download, print & sign waivers & releases beginning June 15 - we will email you when they are available online.
Download Your Parent-Camper Handbook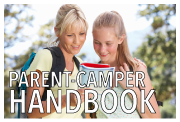 All campers and parents should read each applicable section of our Parent-Camper Handbook. Inside you'll find everything you need to get ready for camp: how to minimize and handle potential homesickness, ADTC health policies, policies regarding cell phones & other technologies, check-in/out procedures, keeping in touch while your daughter is at camp, Friday Night Student Showcase information, sample schedules and ADTC camp policies.
Blog Posts To Prepare You for Camp
We recommend checking out the following ADTC blog posts as you prepare for camp:
Thank you so much for a great week of dance camp! We'd SO appreciate it if you could take a few minutes to provide some feedback about your session - your feedback will make a positive impact on everything from the activities, food, apparel and dance classes we offer, to recognizing the efforts of our directors, teachers and counselors.
We are continually striving to improve our camps. Your comments, complaints and suggestions are greatly appreciated! If there are any questions you cannot answer, please ask for input from your daughter. This quick survey should take just 3 - 5 minutes to complete.