Dance Camp Health Policies for Parents & Campers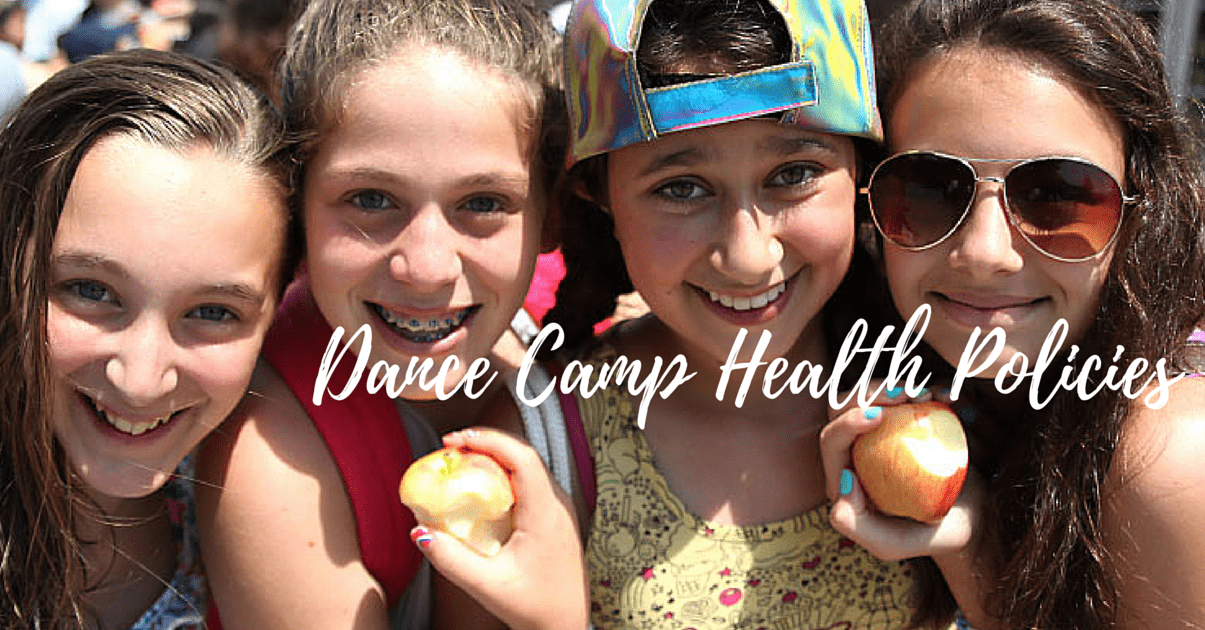 Parents - please get familiar with ADTC's Dance Camp Health Policies below. Remember, your camper's health forms are due June 15th. Thanks for your attention to this deadline!
Camper Physical Examination
A physical examination is necessary to attend American Dance Training Camps. The physical must be within two years of a camper's attendance. If you need a form for your doctor to fill out, you can use our form (we also accept school/athletic forms).
Health Insurance
All campers must have medical insurance. Your personal medical policy is your child's primary coverage. If your daughter sustains an injury at camp, you'll be required to pay for any out-of-pocket expenses and then submit the claim to your insurance company. You'll also be responsible for paying any physician's fees and prescription costs.
Camper Wellness
Please make clear any psychiatric issue or other serious medical problem on your daughter's health forms. We need to make informed decisions regarding the care of your child, so we need all pertinent health information, both physical and emotional. We need to know if a camper is experiencing a traumatic reaction to issues like parent separation, peer bullying, death in the family, etc.
We expect to receive all necessary information about your daughter's physical/mental wellness. We must reserve the right to ask that a camper potentially at risk to herself or the ADTC community be picked up and removed from camp immediately.
Health & First Aid Staffing
ADTC's Health Care Manager (HCM) shall be a Registered Nurse (RN), Licensed Practical Nurse (LPN), or Emergency Medical Technician (EMT) with a valid license as well as CPR certification. The HCM will remain on-call throughout each session. In the HCM's absence, all health related issues will be covered by the Program Director or other ADTC staff as assigned by the Program Director. ADTC staffers are trained in basic first aid and CPR, and our counselors are well-versed in handling dance-related injuries.
Emergency Care
In the event that a camper needs immediate medical attention, she will be taken by the HCM or Program Director, or via ambulance (with an ADTC escort whenever possible) to the nearest medical facility or hospital. Should we feel your child requires off-camp medical care, we will attempt to contact you first.
Health Screening
All campers will be screened for general health by the HCM upon arrival at camp. The HCM will look for signs of head lice and illness. Observations will be recorded in the Health Log and noted on the camper's medical form. Campers showing signs of physical illness may be unable to check into camp.
Storage of Medications & Prescription Drugs
Please turn in any medications (prescription or non-prescription) to the Health Care Manager at check-in. Bring any meds in a zipper-locked bag with your daughter's name containing original container with dosage and frequency clearly marked.
The HCM or Program Director is responsible for keeping all medications secure, including medications that must be refrigerated. The HCM or Program Director may make specific exceptions to this policy as required. If your camper has an inhaler, please bring two, one for her to keep in her room and one to leave with us at check-in.
And don't forget your camper's anaphylactic kit if she has severe allergies.
Administration of Medications & Prescription Drugs
Medications must be administered by an ADTC staff member while your daughter is at camp. We will have Medical Administration forms available for you to complete at check-in.
The HCM or Program Director will bring medications to meals and dispense them; counselors will send their campers to the HCM or Program Director for bedtime medications. Any medications not picked up when your daughter checks out of camp will be disposed of immediately.
Managing Food Allergies &/or Dietary Restrictions
Please note any serious food allergies or dietary restrictions on your camper's health forms and plan to speak with the cook &/or nurse during check-in. We encourage you to purchase and bring to camp any desired or necessary food items for your daughter's week/s with us.
Special dietary items will be stored appropriately in the kitchen and served to your camper based on the schedule you discuss with the kitchen staff.
Under no circumstances should food be stored in a camper's room without prior consent from the ADTC Program Director.
Should you wish to speak with the kitchen staff and/or nurse prior to arriving for check-in, we can arrange this approximately 1 - 2 weeks prior to your camper's check-in date. Please contact the ADTC office at 866-383-2382, or email Info@DanceADTC.com to arrange this. 
Travel Off Camp Property
Accompanying ADTC staff will carry copies of Camper Health Forms for any trips off campus. A First-Aid certified staff member will review contents of a First Aid Kit with the HCM or Program Director, as well as any necessary medications prior to departure.
Any treatment or medication dispensed on the trip will be recorded by the counselor in charge of the activity. The HCM will review the treatment log for any follow up that should be done after the trip.
P.S. Early Bird Dance Camp Rates Through April 20th!
Studies show that a key to happiness is having something to look forward to...now you can brighten your daughter's school year as she gets excited for camp. This is your best summer rate. Hurry - ADTC Early Bird registration ends April 20, 2017!