Girls: We have to do what we love. The world needs strong & inspired girls like us doing more of what we love.
And we've got a lot we're up against - just tune into the latest "reality" show, take a stroll down the aisles at a girls' clothing store, or pick up any teen magazine and you'll see that the messages us girls get about our bodies, sexuality, and about one another are at best harmful and degrading.
That's why the ADTC community shares one simple, unifying mission: to empower girls to move to love.
The "love" we're moving towards originates in the part of our mind that is connected to Spirit. It is our source of peace, joy, happiness, and a whole bunch of other "positive" emotions.
ADTC is a tight-knit, all-girl community where we can feel safe to reconnect with the authentic "selves" so many of us struggle to hold on to during the school year. At ADTC, we aren't bombarded by confusing, fear-based messages that tell us to be skinnier, wear makeup, and dress for boys.
American Dance Training Camps is a company inspired by and created for strong girls. Doing what we love enables us to embody, model & teach our sixteen character values, or "movement manifesto."
The ADTC Movement Manifesto is one way we promote our values within our camp community. It is an ever-evolving collection of bold thoughts that allow for some real conversations to take place at camp.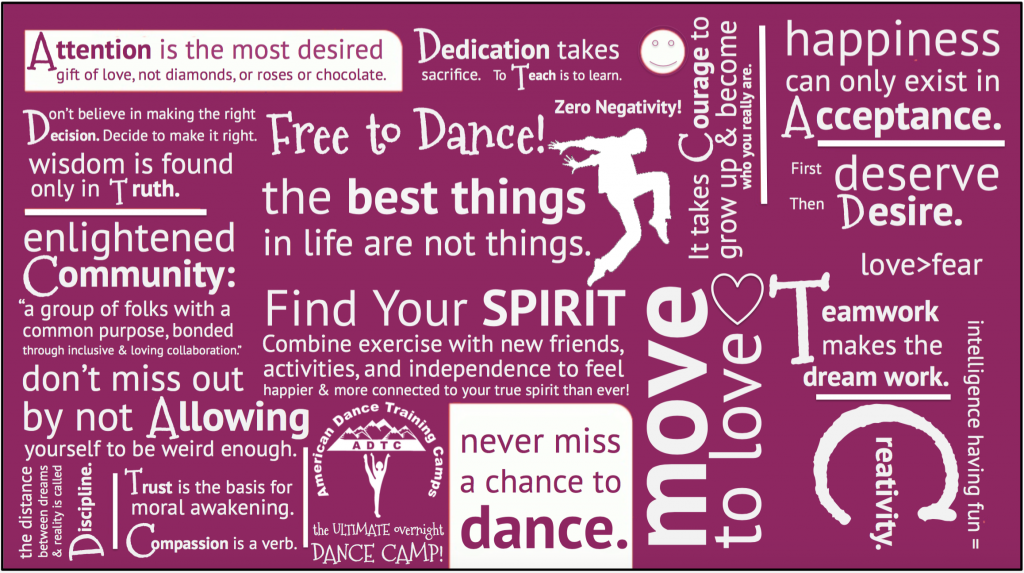 ADTC Character Value Affirmations
As young girls we have a natural sense of ease about us. We feel free to be who we are without apologies. We radiate joy.
As we grow, our culture can alter our perception of ourselves and dim our inner light. A major contributor to this change is the thoughtless or unconscious words and messages around us.
As adults, many of our limiting thought patterns can be attributed to unconsciously adopting negative societal beliefs at certain pivotal moments during childhood.
Much of the content on TV and the Internet are negative self-messages aimed at convincing us to consume more, compete with our friends, doubt our bodies and find happiness in things rather than in ourselves. When fed this way, thoughts grow like weeds and need an organic herbicide (think dance, friends and fun) for healing.
Positive affirmations can do a lot to assist us in developing healthy self-esteem. Using our sixteen character values (the four "A's"; the four "D's"; the four "T's"; and the four "C's"), we've developed the "I statement" affirmations below.
Our hope is that these affirmations help provide an antidote for media messages, and a reprogramming of the mind and heart, both at camp and beyond. Used repetitively, we can learn to call on these messages like faithful friends in times of stress.