Homesickness Strategy: A Guide For Camp Parents
It's been 5 days since you dropped off Susie at camp. You get a letter from her saying, "I hate it here! There are bugs, I didn't get the dance group that I wanted, it's rained every day and I miss you! All I want to do is give you a big hug. I have so much more fun at home. PLEASE COME GET ME!!!!!!! PLEASE!!!!!"  
What Should You Do?! Here's Our Homesickness Strategy Guide for Parents...
First of all, breathe. Most campers (and staff members!) experience some degree of homesickness during the beginning of camp. Most letters are written during Siesta (rest time) or before bed, which are times the campers tend to feel the most homesick.
This feeling is completely normal for everyone and is not evidence of a true dislike of camp. These feelings typically go away after a day or two. Usually by the time you receive these letters, your daughter is actually fine.
If you do receive a homesick letter, please take a moment to write a very positive response (see below). You are welcome to send this as a Bunk Note for a speedier reply - or use it as a guide for keeping your phone conversation on track.
Let your daughter know that you are confident in her ability to cope with her new adventure and remember not to tell her you miss her or cannot wait for her to come home. Validate her feelings. Share a story of a time that you felt the same way! Ask her about camp, her activities, her counselors and friends.
Homesickness Strategy for Parents: Sample Letter To An Unhappy Camper 
Dear Susie,
I just got off the phone with Ms. Charlotte from ADTC. She said that she made a promise to you that she would call me and tell me everything you told her. Ms. Charlotte did tell me you were homesick and cried because you were missing me, and that you hoped I would pick you up from camp... My heart is very sad that you're feeling this way and I want you to know how much I love you and I will always love you.
Also, you need to know that I totally understand. Although I didn't go to camp, I did leave my family and friends for an entire year when I backpacked around the world! I missed my mom, dad and friends so much. But I decided I had a choice - I could either swallow my homesickness and make a huge effort to enjoy it, or I could go home and never get to experience what it felt like to conquer my fears and meet new friends, try new adventures and see exciting places.
I'm not going to pick you up. You are a strong, independent, fun loving, kind girl. You will get through this and I PROMISE you within a day or so you will be feeling more comfortable & confident. The best way to overcome feeling homesick is to stay as busy as you can. Try every activity that you can and realize that this is such a fantastic opportunity for you.
Plus, it is HOT and boring right now here. Most of the kids are away and you'd be bored silly if you were here.
I'm also so happy that you've been able to try horseback riding. Did you enjoy that? Please let me know every fun activity you do and all about your fun friends you've met. I promise to write you every day. You will have a whole slew of letters coming!
Be strong, have fun and know that I am so very proud of you and love you very much!!! Now... chin up, big smile and get to your next activity! I will see you on Friday at the show!
I Love You!
Mom
xoxoxoxoxoxoxoxoxoxoxoxoxoxoxo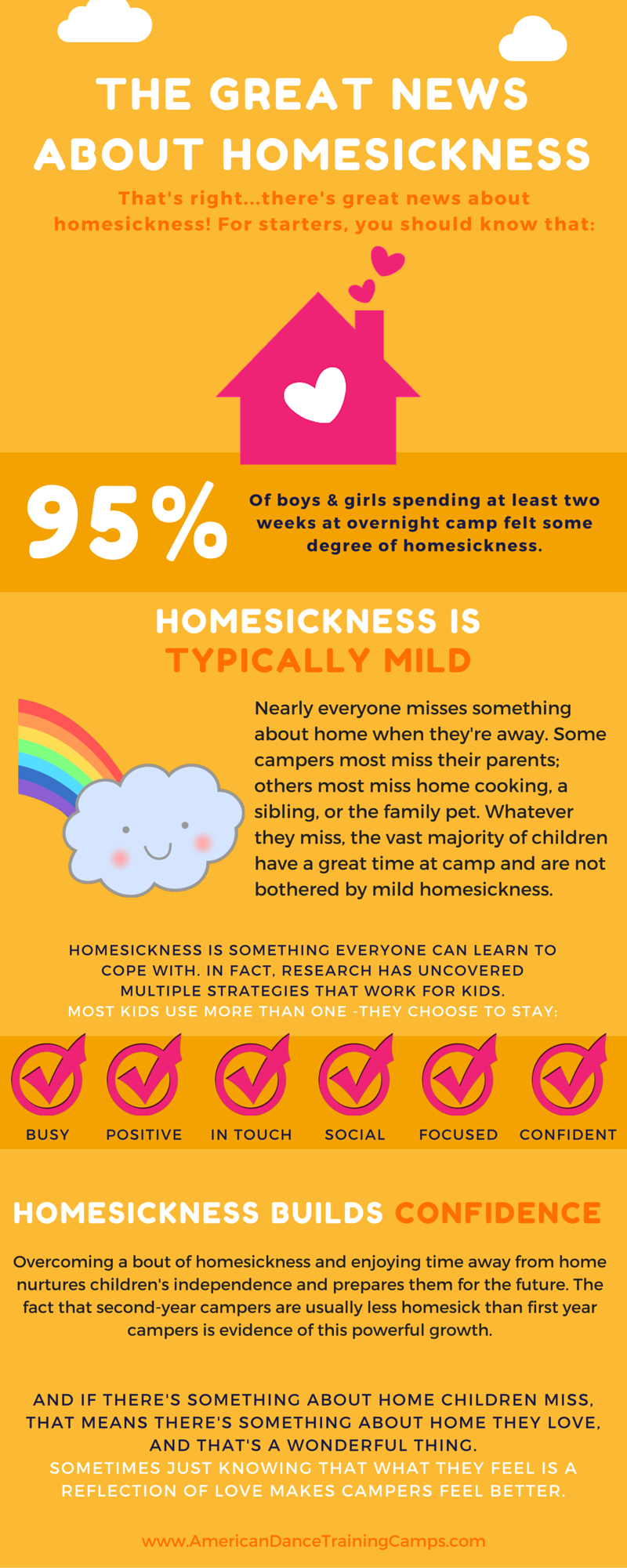 You Are Welcome To Check In With Our Office If You Have Any Concerns 
We strongly discourage a phone conversation with your camper before your scheduled Thursday call, as this can often make the homesickness worse.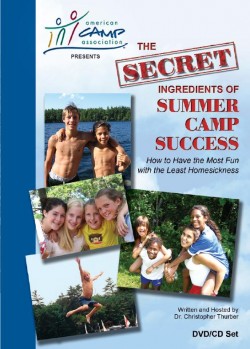 Think of camp as a learning experience. Sending your child to camp offers a wonderful opportunity for both you and your child to practice "letting go." Learning to let go allows children to develop autonomy and a stronger sense of self, make new friends, develop new social skills, learn about teamwork, be creative and so much more. If you think your child may become homesick, we recommend purchasing a DVD/CD set called "The Secret Ingredients of Summer Camp Success" By Chris Thurber, Ph.D. It's available at: http://campspirit.com/the-secret-ingredients-dvd-cd-set/
P.S. Early Bird Dance Camp Rates Through April 20th!
Studies show that a key to happiness is having something to look forward to...now you can brighten your daughter's school year as she gets excited for camp. This is your best summer rate. Hurry - ADTC Early Bird registration ends April 20, 2017!