Love Stories from Around the World
One of the real blessings of organizing dance camps around the country for so long is that people send us stories. Amazing stories. Inspiring stories that warm our hearts. From Russia to Guam, ADTC alumni can be found in over 50 countries around the world. At first glance their stories are about ADTC, but if you pay closer attention, they're actually about so much more.
>> They're about safety, friendship & self-growth.
>> They're about taking risks and being brave.
>> They're about DOING what you LOVE (and loving who you are).
Stories like these are about the beauty and power of young girls reconnecting with their spirit, purpose, self-esteem and sense of belonging. Stories like these inspire us to keep doing what we're doing, and we hope these stories inspire you, too...
Adjectives most often used by parents to describe their daughter's ADTC experience?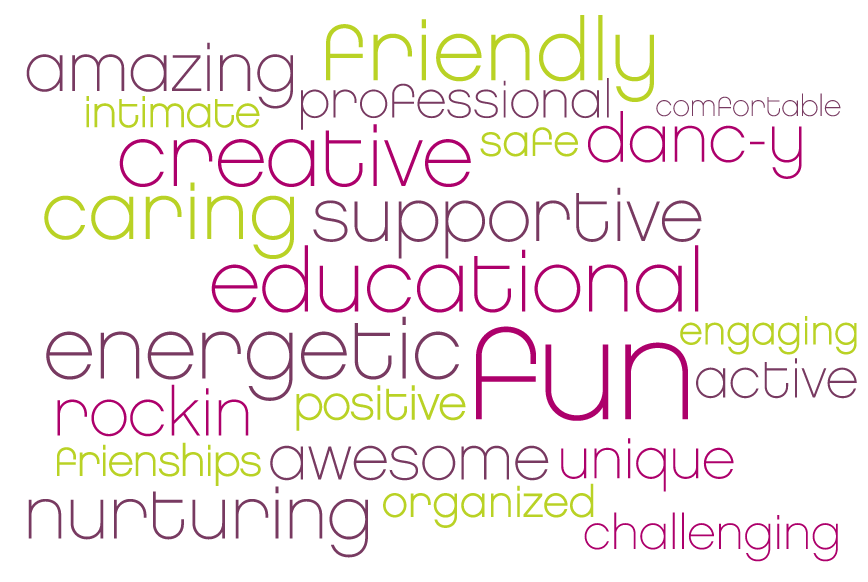 More Inspiring Dance Camp Stories
"This is our daughter's 4th year at ADTC and as always, it was a great experience. The Program Director & Assistant Program Director have been there all four years, so they have watched her "grow up" at camp. When we dropped her off this year, our daughter remarked that it was like "home." The Program Director also did an outstanding job of communicating with us the day of camp check-in since we had to arrive late. It's just another way ADTC goes above and beyond to take care of their campers."

~ Cheri W. (IL Camp)
"My daughter has been going to ADTC for 4 years now and is raring to go back for her 5th! ADTC is a wonderful camp providing interesting choreography and a break from her school year / competitive dance program. While she learns a lot, ADTC is not a super competitive environment (aside from Dance Idol), the girls have a blast, create great friendships and put on a wonderful show after just 5 days!"

~ Deb C. (VT Camp)
"ADTC was the first overnight camp experience for my daughter....and she beyond-loved it and has returned. The friendships are fostered and forged quickly and there is a safe environment which balances independence with appropriate supervision. AND THE DANCE INSTRUCTION AND ENERGY ARE TERRIFIC!"

~ David M. (IL Camp)
"My daughter is still flying high from her awesome experience at dance camp. Thank you to the whole ADTC team for making her experience so fantastic. The staff was exceptional!!! She has decided to take hip hop lessons as a result of dance camp. She met wonderful people and made new friends that sent her confidence level sky rocketing."

~ Sandy W. (IL Camp)
"My daughter has never wanted to leave her dance studio or go to sleepaway camp. ADTC was the most wonderful experience for her both personal growth and letting go in dance."

~ Michelle F. (NC Camp)
"My daughter, Lily (11), absolutely loved her time at ADTC. She thought all of the instructors were wonderful and really enjoyed meeting dancers from different parts of the country. Even though we traveled from Texas to get there, we would gladly make the trip again! In fact, she loved her time there so much we are planning on signing her sister up next year also."

~ Holli S. (TX Camp)
"My daughter has been attending ADTC for the past 4 years and loves it every year. She has made lasting friendships and gained so much from the instruction of the dance teachers that are at each location. It is a wonderful opportunity for her to master new choreography and take instruction from teachers outside of her typical comfort zone. Fantastic summer dance experience!"

~ Lisa A. (MD Camp)
"I knew very little about ADTC and picked the camp off the internet with no references just internet reviews. We were so delighted with our daughter's experience. She learned a tremendous amount of dance and she has 10 years experience dancing. She made incredible friends. She had a fantastic week and can't wait to go back. We loved the show at the end of the week The girls learned 3 or 4 pieces and performed them. They were well choreographed and the girls had mastered them. I t was a great week."

~ Patricia C. (VT Camp)
"My daughter had a wonderful experience. The environment is warm and supportive. Plenty of what makes summer camp great."

~ Tara P. (CA Camp)
"After 9 months of competitive dance it was refreshing to attend a camp just for the love of dance and share that with new friends."

~ Tina S. (CA Camp)
"From camper starting in 2007 to Counselor-In-Training and now a Junior Instructor-Counselor, ADTC has helped shape my daughter into a confident, kind and caring young lady! And, so strong, I should add! Thanks Lindsey and Shannon for your great leadership and offering this exceptional camp experience. You guys rock! Don't forget to encourage folks to suggest ADTC to non-dancer friends. For five years, Alli attended with a friend who had switched to sports at home, but LOVED dancing for the fun of it - and FUN they have had! Love your Manifesto, too. What mother wouldn't?"

~ Nancy Gallant (VT Camp)
"This was a GREAT experience for both my daughter and myself. Sometimes it's hard to let go of control and let someone else care for your daughter, but I was so amazed at all the ladies and how they welcomed Sophie and made her feel comfortable. This helped to ease my mind. She has been missing camp and all the friends she has made. She cannot wait until next year. The Friday night program was awesome and it shows how much hard work all the teachers and counselors put into this week. Sophie talked about camp all the way home (2 hours). I am very happy with this experience for her and will definiely sign her up for next year. Thanks to everyone for all that they did to make this experience memorable for her. You all ROCK!"

~ Laurie T. (IL Camp)
"My daughter has been a camper for 4 years at ADTC. What most people don't know is that she attends 4 weeks per summer. That equates to 16 shows, 16 weeks of pure dance bliss! The first year we enrolled her for 1 week, she stayed for 4! Next year she will be a Counselor-In-Training and is excited for the new adventure."

~ Susan F. (VT Camp)
"ADTC was my daughter's first experience at a sleep away camp and she loved it. She came home wanting to go to a session in California next year! Hearing this I knew she felt safe, had a great time learning new dances and making new friends. The end of the week performance was impressive in showing how many dances the girls learned in a short amount of time! Great camaraderie amongst the girls."

~ Leah G. (VT Camp)