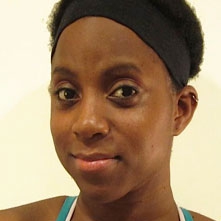 Nicole Bryant is an alumna from the College of Fine Arts at Ohio University with a BFA in Dance Performance and Choreography with an emphasis on Modern/Contemporary dance. For two consecutive years, she served as an intern for Urban Bush Women Dance Company in Brooklyn, NY and at their Summer Leadership Institute in New Orleans, LA.
Nicole is currently she is a company member of Bombazo Dance Company, an Afro-Puerto Rican Contemporary Dance Company that's based in Bronx, NY.
Nicole has been a Modern/Contemporary dance instructor & Program Director at American Dance Training Camp in North Carolina & Vermont since 2010.  Her favorite part about camp is white water rafting! Another major reason Nicole loves to dance because she enjoys telling a story with her body, emotions, and personality.
Want to Work With Our Amazing Dance Choreographers?
Whether you're a dancer or teacher, we know it's not easy to stay creatively inspired when it comes to dance routines. Our 1,000 dances + digital video library and amazing network of choreographers can keep you motivated & moving all year long!
Digital Dance Library
Instantly access 1,000 + dances in our video dance library! Get inspired with song & show theme ideas and award-winning choreography from 13 + years of ADTC dance camps!  MORE INFO >>
GET MY VIDEOS!
Custom Dance Choreography
Now you can purchase custom dance choreography from the ADTC Choreographer of your choice, delivered via private video. Get a dance routine you love, or your money back!  MORE INFO >>
GET MY CHOREO!
Hometown Dance Camps
Choreograph your very own workshop, made to measure, with our amazing dance staff. Hometown dance camps can be one day or two weeks, 10 dancers to more than 200!  MORE INFO >>
GET MY CAMP!