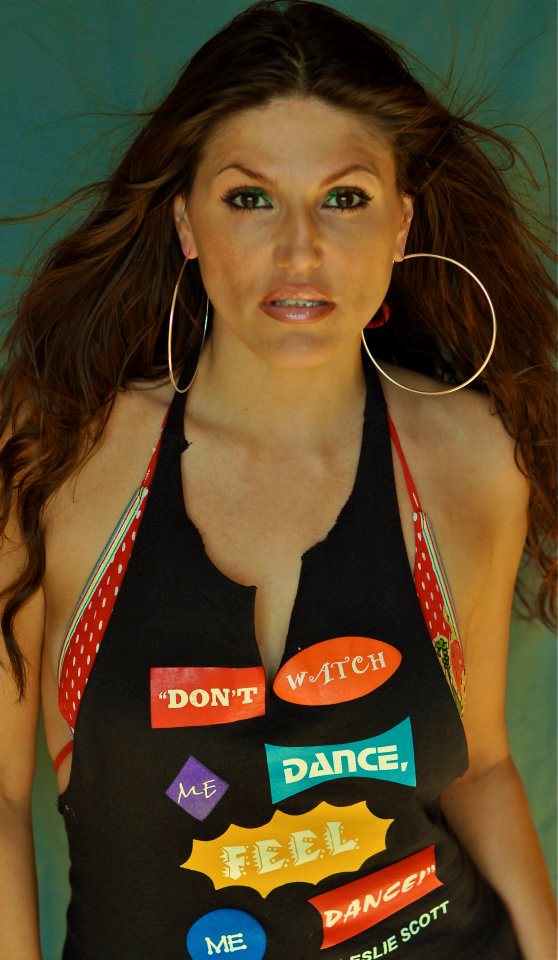 Leslie Scott stands behind numerous television, film, and commercial credits.  This past year, Leslie worked closely with recording artist Ciara and Missy Elliot's choreographer, Hi Hat, on "The Choreographer" and was also a finalist for Bravos' "Step It Up." She has danced for recording artists Beyonce, Ee-De, Angel, and Latin Froz on camera and in live performances and performed at both the Billboard Music Awards and the Radio Music Awards.
Leslie is not only known for her fierce stage presence but has proven herself as a unique choreographer and Artistic Director.  She was the Artistic Director, Choreographer and Lead Dancer for The Audio Club signed by Interscope Records and single handedly transformed lead singer Ashley Allan Lee into a bonified diva! Leslie has a natural talent for artist development due to her unique philosophy of addressing the mind/body connection of the performance persona.
Leslie created a crowd stopping 20 minute set that has opened large venue concerts featuring Omarion, Rihanna, Maroon 5, Akon and Fergie. She developed up-and-coming artist Sinful Blush for RMI records and Choreographed and Performed at the Bay Area Bash Concert featuring E-40, Mistah Fab and Federation.  She has been featured 9 times at Hollywood's Carnival Choreographer's Ball and was invited to choreograph for the prestigious anniversary shows from 2004 thru 2008 where her work was performed alongside Brian Friedman, Shane Sparks, Mia Michaels and Wade Robson, to name a few.
Leslie is a faculty member at The Broadway Dance Center in NYC along with both of Hollywood's top dance studios: EDGE Performing Arts Center and Millennium Dance Complex and tours with the L.A. Dance Force National Convention. Leslie's style is in demand on a global level as well. She has instructed in New Zealand, Korea, Brazil, Mexico, Slovenia, Croatia, Serbia, Latvia, Italy, Vienna, Germany and Canada and has taught in 42 of the 50 United States!
Leslie is well known not only for her talents, but her unwavering work ethic and contagious, positive energy. She is well respected, she is real, and she always brings dedication, heart and a smile to all that she does!
Watch Leslie Scott Dance Videos
Want to Work With Our Amazing Dance Choreographers?
Whether you're a dancer or teacher, we know it's not easy to stay creatively inspired when it comes to dance routines. Our 1,000 dances + digital video library and amazing network of choreographers can keep you motivated & moving all year long!
Digital Dance Library
Instantly access 1,000 + dances in our video dance library! Get inspired with song & show theme ideas and award-winning choreography from 13 + years of ADTC dance camps!  MORE INFO >>
GET MY VIDEOS!
Custom Dance Choreography
Now you can purchase custom dance choreography from the ADTC Choreographer of your choice, delivered via private video. Get a dance routine you love, or your money back!  MORE INFO >>
GET MY CHOREO!
Hometown Dance Camps
Choreograph your very own workshop, made to measure, with our amazing dance staff. Hometown dance camps can be one day or two weeks, 10 dancers to more than 200!  MORE INFO >>
GET MY CAMP!