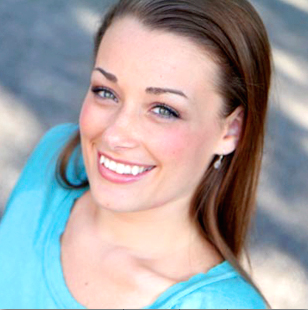 Lauren is a proud native of Chicago's western suburbs. She began training seriously at the Faubourg Ballet Academy under the direction of Watmora Casey. She later graduated with honors from Grand Valley State University, with a Bachelor of Arts Degree in Dance Performance. In her senior year, Lauren's choreography was chosen to be featured in the American College Dance Festival gala.
Upon graduation, Lauren was selected by the Dance Faculty to receive The Outstanding Undergraduate Award in Dance. After she graduated from GVSU, she studied as a year-round scholarship student at the Lou Conte Dance Studio under the direction of Claire Bataille.
Lauren also performed as a feature dancer in the Lincolnshire Marriott's production of SHOUT!, Now and Forever, The Nutcracker, and Mary Poppins. Lauren also performs both principal and soloist roles in the Schaumburg Dance Ensemble's production of The Nutcracker. She then had the privilege of performing as a back-up dancer for Beyonce on Oprah's Farewell Episode at the United Center.
Lauren is currently dancing with Giordano Jazz Dance Chicago's Second Company and is the assistant coach of the Cary Grove High School Varsity Poms Team. She also choreographs for the Lake Zurich High School musicals and is a Certified Personal Trainer, soon to be a Certified Sports Nutritionist. Lauren loves to dance because she believes that dance is a language where all styles and variations are accepted and embraced. An interesting fact about Lauren is that she loves to draw and paint.
Want to Work With Our Amazing Dance Choreographers?
Whether you're a dancer or teacher, we know it's not easy to stay creatively inspired when it comes to dance routines. Our 1,000 dances + digital video library and amazing network of choreographers can keep you motivated & moving all year long!
Digital Dance Library
Instantly access 1,000 + dances in our video dance library! Get inspired with song & show theme ideas and award-winning choreography from 13 + years of ADTC dance camps!  MORE INFO >>
GET MY VIDEOS!
Custom Dance Choreography
Now you can purchase custom dance choreography from the ADTC Choreographer of your choice, delivered via private video. Get a dance routine you love, or your money back!  MORE INFO >>
GET MY CHOREO!
Hometown Dance Camps
Choreograph your very own workshop, made to measure, with our amazing dance staff. Hometown dance camps can be one day or two weeks, 10 dancers to more than 200!  MORE INFO >>
GET MY CAMP!