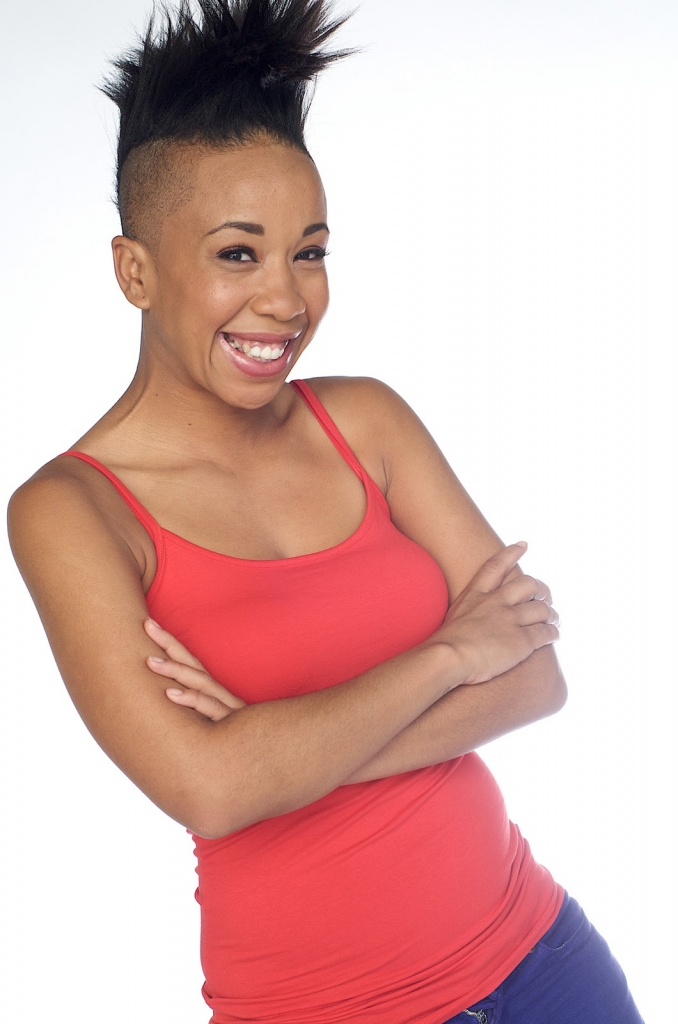 This California native, born and raised in Inglewood, has loved dance ever since she can remember. Not growing up with traditional studio training, Kenya says the streets and TV were where she picked up all her moves early in life. Throughout high school her passion stayed with her, and at just 15 she heard of an audition for a music video on the radio and took the 2-hour bus ride to get there. Though she got cut, she knew from that moment she wanted to pursue dancing as a career.
Fast forward many years later, countless hours of training, and 100's of auditions and you're looking at one of the industry's blazing talents. Kenya has had success as a dancer, teacher and choreographer...but she still prides herself on being a student, claiming that this is "only the beginning for her."
As a performer she has danced and choreographed for many major live shows including the VMA's, the Grammy's, Ellen, DWTS, AMA's, just to name a few. Dominating the TV scene, she has been featured on the Fox hit show Glee, How I Met Your Mother, Greek, Teen Nick's The Nightlife, and was a guest celebrity choreographer for Vh1's Money Hungry. She credits MTV's America's Best Dance Crew for igniting her career, which she was a first season contestant on with her all female girl crew Fysh N Chics.
She has had the privilege of dancing with Music's top artists such as Black Eyed Peas, Mary J. Blige, Willow Smith, and just recently filmed a new Michael Jackson video.
Besides being a force in the commercial scene, Kenya is quickly making a name for herself in the choreography and teaching circuit, currently teaching Hip Hop at IDA Hollywood and the world famous Millennium Dance Complex. She trains all levels, from kids to adults, beginners to advanced performers.
She has taught at several studios throughout California as well as in Vermont, Ukraine and Italy. Her class was highlighted in the Sept 2010 issue of Los Angeles Magazine's "BEST NEW" article, declaring it one of the best classes to take at Millennium Dance Complex. Her big break was when she was asked to be associate choreographer for The PussyCat Dolls "Doll Domination" world tour as well as other projects for the group including the VMA nominated Best Dance Video "Joi Ho". She has also choreographed for artists such as Paradiso Girls, Girlicious, and Hot Chella Rae just to name a few. And she was also a guest choreographer for SYTYCD Ukraine...
Kenya is eager to share her experience and talents with everyone. Ready and willing for everything her Love of Dance has to offer....
Watch Kenya Clay Dance Videos
Want to Work With Our Amazing Dance Choreographers?
Whether you're a dancer or teacher, we know it's not easy to stay creatively inspired when it comes to dance routines. Our 1,000 dances + digital video library and amazing network of choreographers can keep you motivated & moving all year long!
Digital Dance Library
Instantly access 1,000 + dances in our video dance library! Get inspired with song & show theme ideas and award-winning choreography from 13 + years of ADTC dance camps!  MORE INFO >>
GET MY VIDEOS!
Custom Dance Choreography
Now you can purchase custom dance choreography from the ADTC Choreographer of your choice, delivered via private video. Get a dance routine you love, or your money back!  MORE INFO >>
GET MY CHOREO!
Hometown Dance Camps
Choreograph your very own workshop, made to measure, with our amazing dance staff. Hometown dance camps can be one day or two weeks, 10 dancers to more than 200!  MORE INFO >>
GET MY CAMP!