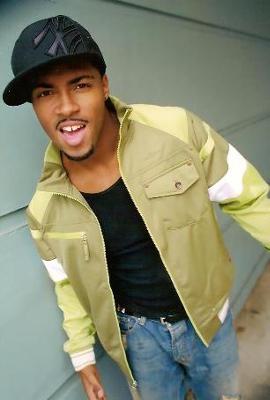 Jamile was a 3rd place finalist on the hit Fox TV show, So You Think You Can Dance and he has danced with artists such as Rihanna, Nelly Furtado, Beyonce, Mariah Carey, Chris Brown, Katy Perry, Nicki Minaj, and many more. Jamile is a natural on stage, wowing crowds with his vibrant breaking, popping and locking, as well as highly energized freestyle solos.
Diagnosed at the age of nine with Systemic Juvenile Rheumatoid Arthritis, he was told he would either be in a wheel chair or not be able to walk for the rest of his life. Despite these odds, he was miraculously healed and able not only to walk, but also to dance...and his dancing has taken him across the world.
By age 16, Jamile had taught his first master class at the Peabody Dance. He went on to study dance at Wright State University, where he excelled in ballet, modern, lyrical and jazz. Since graduating he has performed & taught hip hop dance at colleges, universities and special events both nationally and internationally.
Aside from being a talented dancer, Jamile is an amazing Artistic Director & Choreographer. His choreography credits include: Will Ferrell's "Funny or Die" video featuring Wayne Brady, Mike Tyson, and Bobby Brown; Assistant Choreographer for Gloria Estefan, Wayne Brady; and Contributing Choreographer on Season 10 of SYTYCD. In Fall 2013, his artistic direction was featured in Times Square New York during Fashion Week.
Watch Jamile McGee Dance Videos
Want to Work With Our Amazing Dance Choreographers?
Whether you're a dancer or teacher, we know it's not easy to stay creatively inspired when it comes to dance routines. Our 1,000 dances + digital video library and amazing network of choreographers can keep you motivated & moving all year long!
Digital Dance Library
Instantly access 1,000 + dances in our video dance library! Get inspired with song & show theme ideas and award-winning choreography from 13 + years of ADTC dance camps!  MORE INFO >>
GET MY VIDEOS!
Custom Dance Choreography
Now you can purchase custom dance choreography from the ADTC Choreographer of your choice, delivered via private video. Get a dance routine you love, or your money back!  MORE INFO >>
GET MY CHOREO!
Hometown Dance Camps
Choreograph your very own workshop, made to measure, with our amazing dance staff. Hometown dance camps can be one day or two weeks, 10 dancers to more than 200!  MORE INFO >>
GET MY CAMP!