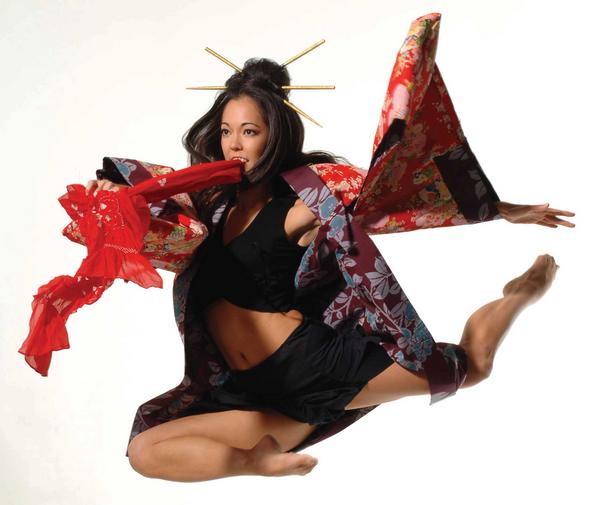 Darcy Naganuma is the Artistic Director/Founder of NAGANUMA Dance. Born and raised in Lihue, Hawaii, Darcy currently runs her company out of New York City. Her choreography has been presented in Hawaii, Salt Lake City, Connecticut, New Hampshire, Vermont and New York.
Darcy's heart resides in the dance studio; she is constantly invigorated by the magic that emerges as her own ideas meet the unique strengths of her collaborators.
On faculty at both Dance New Amsterdam and Broadway Dance Center in new York City, Darcy also heads the modern program at the school of the Westchester Ballet Company. Her teaching credits include workshops/classes at SUNY Purchase, PMT Dance Studio, the Utah State Dance Conference, Salt Lake Community College, and Repertory Dance Theatre. She has appeared in works by Ron K. Brown, Doug Elkins, Alwin Nikolais (solo reset by Alberto del Saz), Viola Farber, Linda Diamond, and Donna White.
Naganuma was featured in the premiere of a new Repertory Dance Theatre LINKS work, and, since her move to New York City, has danced with Opus Dance Theatre and Hydroflo Dance Company. She has appeared in commercials and dance specials on both the MTV and VH1 networks, and was invited to perform at the UN Headquarters in May 2007. Darcy holds a B.F.A. and Dance Education certification from the University of Utah, where she was a Presidential Scholar and recipient of the Interdisciplinary Arts Scholarship.
Since its inception in January of 2006, NAGANUMA Dance has been selected to appear in the PMT Seasonal Showcases, the 2006 - 2009 Battery Dance Company Downtown Dance Festivals, the Earl Mosley Masters of Dance Performance Series, the 2006 Dumbo Dance Festival, the 2007 - 2009 White Wave Cool New York Dance Festivals, SummerStage 2010 (NYC), and the 2011 New Sounds, New Moves program at Joyce SoHo.
Darcy joined American Dance Training Camps ULTIMATE Green Mountains dance camp in Stratton, Vermont summer 2007, teaching contemporary, jazz and hip hop dance.
Watch Darcy Naganuma Dance Videos
Want to Work With Our Amazing Dance Choreographers?
Whether you're a dancer or teacher, we know it's not easy to stay creatively inspired when it comes to dance routines. Our 1,000 dances + digital video library and amazing network of choreographers can keep you motivated & moving all year long!
Digital Dance Library
Instantly access 1,000 + dances in our video dance library! Get inspired with song & show theme ideas and award-winning choreography from 13 + years of ADTC dance camps!  MORE INFO >>
GET MY VIDEOS!
Custom Dance Choreography
Now you can purchase custom dance choreography from the ADTC Choreographer of your choice, delivered via private video. Get a dance routine you love, or your money back!  MORE INFO >>
GET MY CHOREO!
Hometown Dance Camps
Choreograph your very own workshop, made to measure, with our amazing dance staff. Hometown dance camps can be one day or two weeks, 10 dancers to more than 200!  MORE INFO >>
GET MY CAMP!