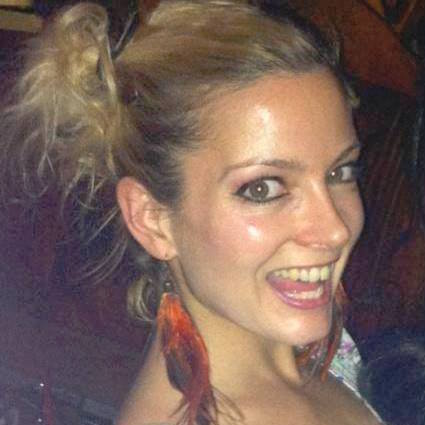 Angela Harriell is the director and choreographer of a popular NYC based downtown Nutcracker, selling out 8 seasons and touring professionally in Japan, as well as the founder and choreographer of the theatrical dance company, The Love Show.
A graduate of Fredonia University, where she received The Graduate Scholarship for ballet, she has danced with Elisa Monte and David Brown dance, Randy James Danceworks, Brooklyn Ballet, Opera Francais De New York, The Box, and was a professor teaching ballet at Binghamton University.
Angela has performed for several recording artists including Future, Gogol Bordello, Snoop, and The Trammps.
Angela has set original choreography for several dance schools and companies. Her work has been selected three times to be presented at special galas at the National Arts Club, where Angela has performed along with such luminaries as Elaine Stritch, Tammy Grimes, Charles Busch and Julie Halston. 
Angela also taught dance at Lincoln Center for Midsummer Night's Swing.  The New York Post and many other publications have praised her choreography, and The New York Times sent a reporter to follow her troupe's exploits last Bastille Day.  Angela toured Tokyo, Japan with her company, The Love Show, performing two of her original productions in Rappongi and Shibuya.  Her most recent production was with musician Corn Mo: a rock opera ballet, Severed, that opened to a sold-out house at The Highline Ballroom in NYC. 
Angela's style is contemporary, ballet and jazz technique based, with emotive elements playing a very important role in the choreography.  Telling a story is always an important part of the work.
Want to Work With Our Amazing Dance Choreographers?
Whether you're a dancer or teacher, we know it's not easy to stay creatively inspired when it comes to dance routines. Our 1,000 dances + digital video library and amazing network of choreographers can keep you motivated & moving all year long!
Digital Dance Library
Instantly access 1,000 + dances in our video dance library! Get inspired with song & show theme ideas and award-winning choreography from 13 + years of ADTC dance camps!  MORE INFO >>
GET MY VIDEOS!
Custom Dance Choreography
Now you can purchase custom dance choreography from the ADTC Choreographer of your choice, delivered via private video. Get a dance routine you love, or your money back!  MORE INFO >>
GET MY CHOREO!
Hometown Dance Camps
Choreograph your very own workshop, made to measure, with our amazing dance staff. Hometown dance camps can be one day or two weeks, 10 dancers to more than 200!  MORE INFO >>
GET MY CAMP!